The Place Beyond The Pines
Where "Blue Valentine" was a quiet and contained master study in romantic relationships, Derek Cianfrance's new film "The Place Beyond the Pines" is a powerful and epic study of familial connectivity. At an absorbing two hour and twenty minutes, Cianfrance's new film is ambitious in scope, but upon deeper reflection, it tackles such internal pain and ingrained consequence that it becomes profoundly personal.
In a way, "Pines" is three movies in one; forming a sort of family trilogy about the sins of the father and how actions can vibrate through generations. It opens with a motorcycle stunt man named Luke (Ryan Gosling) performing in a traveling carnival. An adrenaline junkie, he is a man that seems to have a woman in every port - one of them being Romina (Eva Mendes) who, he discovers, has kept the fact that she had his child a secret. Upon discovering this, Luke decides to stay in Schenectady, NY and try to be a part of his son's life. But Romina has a live-in boyfriend and has moved on. Still, he feels a sense of responsibility and goes about trying to get money to help raise him. His buddy Jack (Craig Van Hook) tells him he should put his talents to use in order to achieve this. Before you know it, Luke is robbing local banks and then zipping away on his motorcycle with the loot. He then uses that money to buy things for his kid to help Romina out - despite the fact she never asked for it.
But things don't go so well and tragedy strikes, which opens up the second act of the three act film. In it, a rookie cop named Avery (Bradley Cooper) becomes an unwitting hero during a home invasion. The impact of his actions, however, causes him to bury his demons and shift his focus on something he can control. In doing so, he ends up taking on his corrupt police department. Which leads to Act Three.
The final act takes place fifteen years later and is the culmination of the choices both Luke and Avery have made. While there are some minor conveniences (and one house party that would never have happened, considering ), it boasts two amazing performances by Emory Cohen who plays Avery's fifteen year old son AJ, and Dane DeHaan who plays Luke's son, Jason.
There's such an intense curiosity about these men, and the performance are so complex, it's impossible to not be fully immersed in their struggles.
Really, all the performances by the film's leads are spectacular. Gosling has played this sort of quietly damaged love him and hate him drifter before, but he's so good at allowing us to see the fragility within the bad boy it doesn't matter. Because he doesn't play his characters as one-note, the tragedies that befall him are deeply felt by the audience.
Cooper continues to prove he's more than just a goofy audience pleaser. Here he demonstrates he can create a deeply conflicted man and portray those contradictions with just a flick of his eyes. Even Eva Mendes does good work by scaling down her beauty and giving herself over to the disappointment and rage her character lives within.
But it is Cohen as AJ that is the real surprise here. His penetrating performance as a volatile teenager making a myriad of bad choices is reminiscent of a young Marlon Brando. This certainly won't be the last we hear of him.
The script by Cianfrance, Ben Coccio, and Darius Marder is raw and downbeat, yet never overwhelmingly so. There's such an intense curiosity about these men, and the performances are so complex, it's impossible to not be fully immersed in their struggles. Cianfrance's direction is gritty enough to make it genuine, but doesn't overdo it to the point of distraction. He allows us to stand uncomfortably next to these characters and witness first-hand the connections between fathers and sons; to understand how even the most subtle of choices can reverberate down to a child. And how even bad choices can come from very good people.
The Place Beyond the Pines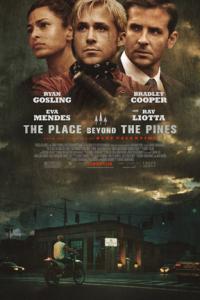 Info
Runtime :: 140 mins
Release Date :: Apr 12, 2013
Language :: English
Country :: United States

Kevin Taft is a screenwriter/critic living in Los Angeles with an unnatural attachment to 'Star Wars' and the desire to be adopted by Steven Spielberg.
Comments on Facebook