South Florida Gay News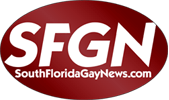 The South Florida Gay News.com celebrates the lives of South Floridians with daily news briefs and storied features, breaking news and lifestyle profiles. Check out their website at southfloridagaynews.com.
A State University of New York professor is in hot water after giving a controversial "female or shemale" quiz.
A television dating show in the United Kingdom is being accused of spreading ignorance on bisexuality.
On Nov. 7, First Minister of Scotland Nicola Sturgeon will apologize on behalf of the government to men who were convicted for gay sex under now-abolished laws.
Are American LGBT activists becoming more engaged in wider "social-justice" issues than they have been in many years? I am hearing more about this trend and applaud it strongly.
Two-thirds of Australian citizens, most politicians and the leaders of all major parties support marriage equality in Australia according to the Australian Equality Campaign
A care facility for women in India is under scrutiny after closing its doors to a woman who showed "lesbian tendencies."
With the shooting death of 47-year-old Stephanie Montez, 2017 is now the deadliest year on record for transgender people living in America.
Miami Beach Gay Pride donated $7,500 to the Point Foundation, the nation's largest scholarship-granting organization for LGBT students.
Day, a Naples resident, saw this Halloween as a perfect opportunity to tell young boys that they are powerful in whatever they want to be this Halloween, but also making sure to not show it through a dramatic lens.
The Department of Justice has signed on to assist with the prosecution in the murder case of a genderfluid high school student in Burlington, Iowa. However, the slain teen's mother has a lot to say to the Trump administration.