Queens Pride Historic Exhibit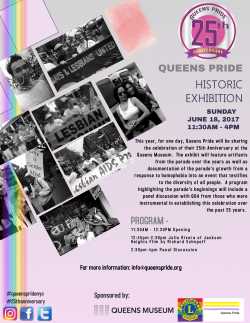 When:
Sunday June 18 at 11:30AM

Where:
Queens Museum
Flushing Meadows Corona Park New York City Building, Queens NY 11368

Map It
Buy Tickets
About:

Sparked by an insidious hate crime committed in 1990, a group of LGBT people came together in Jackson Heights to let the world know that the time had come to speak out and make their presence known. This was the birth of the the dedicated individuals who organize the Queens LGBT Pride Parade held every year on the first Sunday in June.

Opening reception for the Memorabilia and photo
exhibition in the Unisphere Gallery

11:30 AM - 12:30 PM
Anniversary Cake cutting

12:30 PM - 12:45 PM
Screening of Julio of Jackson Heights

2:30 PM
Immediately followed by panel discussion



Honorable Danny Dromm - NYC Councilmember
25th District, Queens


Eric Marcus - Author "Making Gay History"


Constance Vien and John Roane - Queens


Center for Gay Seniors


Nathan Robinson and Elijah Betts - Generation Q


FACEBOOK

INSTAGRAM

TWITTER

call/text 347-494-1899
info@queenspride.org