1 thru 10 of 6464 Stories
President Donald Trump's top economic adviser is playing down fears of a looming recession after last week's sharp drop in the financial markets and predicting the economy will perform well in the second half of 2019.
Chef Mario Batali, whose career crumbled amid sexual misconduct allegations, no longer owns a stake in Eataly, the Italian marketplaces he once heavily promoted.
Leaked British government documents have warned of disruptions across the country in the event that the U.K. leaves the European Union without a trade deal on Oct. 31.
President Donald Trump is warning of an economic crash if he loses reelection, arguing that even voters who personally dislike him should base their ballots on the nation's strong growth and low unemployment rate.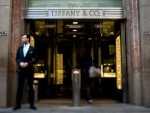 Tiffany & Co. is launching its first comprehensive jewelry collection for men in October as it seeks to diversify its traditional customer base.
NARS Cosmetics have made a marketing strategy from suggestive names for their products, but for some a suggestive new lipstick ad might have gone a bit too far.
A whistleblower who warned regulators about Bernard Madoff's Ponzi scheme is now accusing General Electric of misleading investors, sending the company's stock on a downward spiral.
Welcome to the world of Trump's tariff wars with China, which can turn everything upside-down with just a presidential tweet.
Spa visits and the money they generate reached record highs last year in the U.S. with $18.3 billion in revenue driven by 190 million pampering trips, according to the International Spa Association.
Visitors may now get a look at two rare leopard cubs at the Rosamond Gifford Zoo in Syracuse, New York.
1 thru 10 of 6464 Stories