Alan Cumming Talks Art, Politics & Camping in the Poconos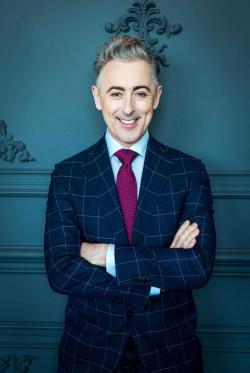 Two little known facts about Alan Cumming is that he does decoupage and hosts a knitting group, at least according to a recent press release about his upcoming appearance on June 26 for a benefit for Boston's Society of Arts + Crafts at the organization's Seaport home. Entitled "Conversation and Q+A with Alan Cumming," it will feature the Tony- and Olivier-winning actor in a talk with Izzy Berdan, Boston-based art and commercial photographer and creative director.

Berdan also co-curated SA+C's current exhibition "PRIED," which features lesbian, gay, bisexual, transgender, and queer-identifying craft artists from New England and across the country. According to the release, Berdan met Cumming several years ago and the pair have been looking for a chance to work together since. He says the run of "PRIED" proved the perfect opportunity to discuss their mutual interests.

Will Cumming be bringing any of his decoupage to the event?

"I might bring a box. I am not sure," he said with a self-deprecating laugh.

That Cumming has any time to do decoupage is amazing. He is currently starring in the hit CBS procedural "Instinct," which begins its second season on June 30. On the show, he plays Dylan Reinhart, an author, psychology professor, and former CIA paramilitary officer, who is consulting with the New York Police Department in solving cases. He is, by the way, gay, which is something of a first for network television: a lead character who happens to be gay, which is one facet of a complicated person.

He recently completed a run of Jeremy O. Harris's new play "Daddy" at the Vineyard Theatre in which he sang the George Michael song "Father Figure" in the middle of an onstage swimming pool accompanied by a gospel trio. Describing Cumming as being in "in Mephistophelean mode." Ben Brantley wrote in the New York Times that in the play, in which he played a wealthy art dealer seducing a younger man, "Mr. Cumming... provides canny glimpses of the sad smallness of a man who believes he can buy love and respect with purchases from Tiffany and Hermes."

And he can be found many nights at the club that bears his name — Club Cumming in New York's East Village. It is a venue that grew out of Cumming's party-giving spirit, having its roots in the post-performance parties that the actor would throw in his dressing room during the second Broadway revival of "Cabaret." He is also bringing the spirit of Club Cumming to the Poconos in September with Camp Cumming — a weekend event where participants can eat S'mores with Cumming and friends. (The event takes place September 20 to 22 at the recently refurbished Rainbow Mountain Resort. Click here for more details.)

EDGE spoke to Cumming recently about the role of the gay artist, what he thinks of critics and his diabolical plans for Camp Cumming.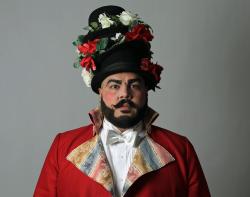 Supporting change
EDGE: How did you get involved with attending this event?

Alan Cumming: Izzy Berdan, the co-curator of this exhibition (with Boston LGBTQIA Artists Alliance Director Dave J. Bermingham), is an old friend of mine and I just thought it was interesting that this is the first time that they [SA+C] have had an LGBT-themed exhibition. And I thought it would be a fun thing to talk about.

EDGE: Why show your support?

Alan Cumming: Like on my television show, which is about to start again, I am the first ever gay leading character in a network drama, which I think is terrible. It should have happened a long time ago. The same with this. This is the first LGBT-themed exhibition that has been presented in this institution, so I am going to support that because I feel those things need to be marked. And isn't it ridiculous that this hasn't happened before now?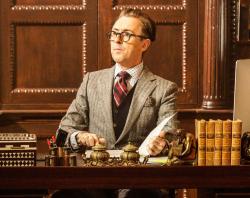 Artist's role
EDGE: I read in an interview where you said that you are bothered by the prefix of 'gay. ' Can you explain?

Alan Cumming: I would like to clarify this. It is the prefix, not being gay that I have a problem with. You never say straight actor or heterosexual singer. When you point these things out to people they say, 'oh we always do that.' So I understand why it happens, but we have to stop the first thing we talk about someone is their sexuality if they're from that group.

EDGE: What you do you think your role as an artist?

Alan Cumming: Well, that's a very personal thing. People define themselves in different ways. I think my role is to tell stories that open and broaden their minds to different things. And in the course of this, I am opening and broadening my mind. So I do feel that your responsibility in society is to remind people of things, provoke them, and to expose them to experiences and ideas they may not have had otherwise.

EDGE: In a review of the Broadway production of "The Threepenny Opera," you said once that a critic reviewed your crotch as opposed to your performance. I hope it was a good review; but, more seriously, what is the role of the critic in the theater-going experience?

Alan Cumming: Again, in a grand and a perfect way, the role of the critic is to challenge the artist and to expose the audience to things. A critic is a very important person in society. I think it is a role that has sort-of forgotten and has too often been led by ego, but it a source you have to try to understand something better. I don't think the standard of criticism is very good in this country though, especially in theater. I actually think that theater critics should have a limited term. It is not something you should do all your life because then you don't have any outside input to contribute to that. You should look at the theater from a holistic point of view. Then you become this little theater robot. It is like theater directors who run companies - they have terms, they don't do the same things all their lives. You have to have other impetus and other stimulation and not just be in this little bubble. If I had to go to the theater every night of my life, I would kill myself. No wonder so many of them are such grumpy little things.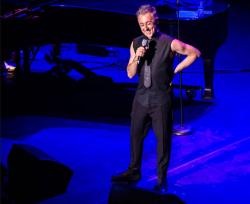 EDGE: So is it fair to say your credo to keep you extending yourself further?

Alan Cumming: Definitely, but you have to be holistic about it. It has to be as balanced as everything in life. But I want to keep challenging myself and do things that I am scared of sometimes. And also things that are important. Like I did a play a few months ago called 'Daddy' and I did it because issues in it are not talked about enough in our culture. And also nourishing myself, you know doing things that make me have enough money to be able to do things that challenge me.

EDGE: Are those issues in 'Daddy' dealing with issues with being an older gay man?

Alan Cumming: That is inherent, but it isn't an issue in the play. It deals more with queerness and race. There was an intergenerational relationship, but it wasn't really discussed. They were sexually active - they have sex in the pool. It wasn't an issue, but I think it is fascinating that people think that once you get past 45, you sit home knitting. I haven't found that to be true at all. And also I think it is important to show that it is fine to talk about sex when you get older. It's like society has decided that you have to stop having sex at a certain age, which is nonsense.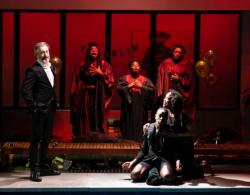 Playing 'Daddy'
EDGE: What did you think when you got the play and saw the title was 'Daddy.' Did you think, 'well, now I am playing a 'daddy?'

Alan Cumming: It wasn't so much the moment I got the play, but as it approached and I started to make myself look older for it. I was growing a beard and embracing my daddy-ness a bit. I don't think of a daddy as I perceive myself, but it is one of those things that when you start to do something like that, it all starts to happen. When I grew a beard, people started saying, 'hey daddy.' So I have to embrace and contemplate the fact that, yes. I am that age. And it was something I liked. I enjoyed this new role, but as soon as I shaved the beard off, it went away. It is like a uniform you wear to signal what you like. Daddy is not my natural place where I fall, but I obviously embrace it because it is going to happen more and more.

EDGE: You have spoken eloquently about the lost generation issue of gay men lost to the AIDS epidemic. Why is that important to you?

Alan Cumming: I think it is important to understand why we have certain problems in our culture. There is massive PTSD about AIDS that people are now beginning to understand properly. And the reason there is a schism between generations of gay men is because a generation is missing - there is a generation of mentors who were not there to be able to talk and teach. And that saddens me actually, because I do see this schism, and I understand it from both sides. And it is interesting that I noticed there are more scripts. We are coming into a time when people are looking back to the 1990s and seeing a wealth of stories, a lot in terms of the AIDS crisis and LGBT stuff that hasn't been explored properly. It is fascinating how we use the arts to understand history.
Club Cumming
EDGE: Are you enjoying the Club Cumming experience?

Alan Cumming: I love it. I absolutely love it. It is a great thing to want to have an experience in a place, and for people to have an experience, and it works. When I said I was going to open a bar, I very carefully wrote a statement about what I wanted it to be like because I knew once the word got out, this would be the mantra that people would remember and people would bring to it and create the spirit that I wanted. It is a really amazing thing for me to walk into it and feel that experience and come up to me and telling me how much they enjoy the kindness and atmosphere in the bar. It is a really great thing. I feel like I could run a cult now. I feel like I could open a cult. I start with a bar, the next thing is a cult. But one thing we are going to do is sort of like a cult is we are going to in September is have this thing called Camp Cumming. It is in the Poconos for one weekend. It will be me, and some DJs and some performers and we will do crafts and things around the campfire. So it will be going to Club Cumming for a whole weekend in the country. I can't wait. Me and friend Daniel, who is my co-owner, we just want to buy one of those camps and retire and have Camp Cumming all the time and live there.

EDGE: So you will have a camp for your cult?

Alan Cumming: That's basically a cult. We can call it Cult Cumming.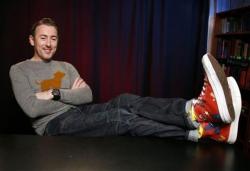 Optimistic?
EDGE: Are you optimistic or pessimistic about politics these days?

Alan Cumming: Optimistic that it will end. It feels like the last of days a bit. I mean the cracks are showing within the Republicans about things. And I also feel that we live in this bubble of oversaturated amounts of news coming to us. Constantly analyzing things. It is obvious that most people in this country don't care about the Mueller Report and the lies and things like that, so I feel the economic situation is going to be more of a concern for people because they were the ones who overlooked before and voted for him. For me, there is a slight turning point within the Republicans in a moral sense. My biggest anger is against them - the people who shouted down Trump and said what a danger he was and then immediately turned the other cheek and are all over him. I think those are the people who are most to blame because they are enabling him. And I feel there is the beginning of a little crack that is showing in their support. And I think they are the people who are going to suffer because they are going to be seen as the people who supported a tyrant. So I am optimistic in that I think that it is starting to turn, but I am pessimistic in that there are going to be more terrible things to happen before we get rid of them.
Buttigieg?
EDGE: What do you think of the Democratic field for President?

Alan Cumming: I do. It is such early days, but I co-hosted a fundraiser for Pete Buttigieg a few weeks ago and I am really inspired by him. What is important is to get your message across and also I feel, alas, in this country, not sounding like a politician. And I think he has a really great story and a really great way of connecting with people and being heard. I think he has issues - he is not connecting that much with people of color. But it is still very early. I am very inspired by him.

There are many of them I think are great, but there are some that I think, what are you doing? Walk away. Like Joe Biden. Just stop it. You are doing a disservice to your country I think. It is hard not to be ageist, but I am going to be ageist now. I think he's too old to do this job. He has failed at this many times and it is going to be the same as with Hillary, in that it is going to be his term. It's ridiculous. The thing that he has got most is name recognition. If that were the case, then Lady Gaga should run. I just feel that we need radical, new younger voices. It's even not what's Bernie's doing. I loved Bernie the last time around. He has done great service and he has brought the country to talk about more progressive issues. The word socialist is not a crazy thing anymore; Medicare for all is not an alien, ridiculous concept. So I think he's done a great job, but I don't think he should be running. He should be putting his support behind younger people. This is a young's person's job. If we want to get the young people of our country moving and excited and inspired, then we don't want to have a bunch of old white guys running it.

EDGE: Back to criticism. You are opinionated and articulate. What would you do if, say, the New Yorker asked you to write theater criticism for a year, would you do it?

Alan Cumming: Despite my abhorrence of going to the theater every night, I would be interested in doing something like that. I recently over the last year reviewed a couple of books for the New York Times and I really liked that as a writer. I am not mean. I try to find positive things to say about something, and I got two very good books to review. I think that I have a quite grasp of issues in the art world and the socio-cultural world, so I think I could do that. But I think that you have to stop because you become a mean old weirdo.
For ticket information on "Conversation and Q+A with Alan Cumming,", follow this link.

For more on Camp Cumming, click here for more details.

For more on all things Alan Cumming, //www.alancumming.com:visit his website.
Comments on Facebook