Lil Nas X Graces Time Magazine's Newest Issue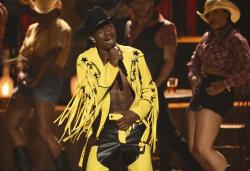 It's been a fantastic year for Lil Nas X.

Weeks after coming out as gay during Pride Month, the rapper's unstoppable single "Old Town Road" continued to break records and recently became the longest-running No. 1 single on Billboard's Hot 100 by claiming the coveted spot for 19 weeks in a row — and counting.

Now, Lil Nas X is on the cover for Time magazine's newest issue, out August 26. Wearing all red, including a ten- gallon hat and turtleneck, the musician speaks with writer Andrew R. Chow about his single and about coming out as gay. He said in the interview that he initially didn't plan to come out, worrying he'd lose fans.

"I know the people who listen to this the most, and they're not accepting of homosexuality," he said.

Click here to check out the full story and take a look at the cover below.



Comments on Facebook