Watch: Gay Porn Star Allen King Releases Sexy New Music Video 'Mejor Me Quedo Solo'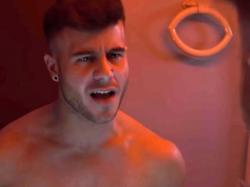 Gay porn star turned singer Allen King is releasing another music video this week.

Back in September King dropped the neon-lit sexy vid for his song "My Boy" and he's now following that up with "Mejor Me Quedo Solo."

Singing in his native Spanish, King's club-ready track is a banger and, of course, the video for "My Boy" features him in a number of tender and romantic scenes. Still as sexy as "My Boy," his new music video shows a relationship on the rocks. The couple are sometimes in pure love but other times fighting and screaming at each other. "Mejor Me Quedo Solo" also ha a noir twist to it.

Check out the video below.
Comments on Facebook