Remembering Harold Prince (Thanks to YouTube)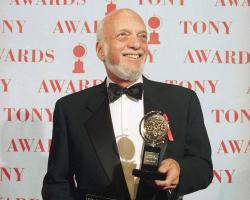 About 15 years ago Harold Prince appeared at Harvard University to talk about his career and musical theater. At the time Prince, then in his mid-70s, was every inch the vigorous visionary he had been since he broke on the Broadway scene in the early 1950s, and for more than hour gave one of the most lucid explanations of the musical and the role he played in the genre's evolution. He was said to have remained that active, probing talent right up until his death yesterday in Reykjavík, Iceland at the age of 91. For proof, check out these excerpts from an interview he did last year with Jeffrey Seller indicate, the lead producer of "Hamilton," to discuss his career for Sirius Radio that was published in the New York Times.
He was for me the most important director in the history of the American musical theater. His being award an unprecedented 21 Tony Awards (8 for direction) is proof enough of his influence on the American musical. I remember reading of his credits in the late 1970s and even thinking then how accomplished and influential he was. And that was prior to "Sweeney Todd," "Evita" and "The Phantom of the Opera."
That his staging of that epochal musical lives on at the Majestic Theatre, where it has been playing since 1986 is proof of his legacy. "Phantom" was his triumph and proof that there are second acts in show business. In 1985, Prince career was in free fall. The most lauded director of the 1970s had a string of flops, beginning with "Merrily We Roll Along," his fabled misfire with Stephen Sondheim which ended their partnership for 20 years, and running through expensive flops as "A Doll's Life" and "Grind." (For more on what it was like working on "A Doll's Life," read Jesse Green's story in The New York Times.) But "Phantom" triumphed, largely because of Prince's cinematic staging, which played the story like a B-movie horror story filled with spectacular effects. For proof of the validity of Prince's approach, see the current touring version, which makes the musical seem more like a loud, latter day operetta.
Harold Prince with his Tony for directing "Evita" in 1980.
With "Phantom," Prince was back on top, working right up until 2015 when he staged a middling received retrospective of his shows, "Prince of Broadway," which played Japan before coming to New York. During this period he won another Tony for staging an extravagant revival of "Show Boat" in 1993. His last Tony was a well-deserved Life Achievement Award in 2006.
But prior to "Phantom," Prince had already shown he was a major force in the American musical, largely for his collaborations with Stephen Sondheim, which began with "Company" in 1970 and continued through that decade with "Follies," "A Little Night Music," "Pacific Overtures," "Sweeney Todd" and "Merrily We Roll Along." They all weren't hits — in fact, the only ones that made money in their original productions were "Company," "A Little Night Music" and "Sweeney Todd," and none of which ran more than 700 performances. But in what became known as the "concept musical," Prince and Sondheim pushed the envelope of the musical in ways that influenced a new generation of musical theater composers and lyricists, not to mention actors.
And even before his Sondheim collaborations, Prince was a major Broadway force, having since the early 1950s produced a string of popular musicals, many of which are still produced today. "The Pajama Game," "Damn Yankees," "Fiorello!" and, most significantly, "West Side Story" and "Cabaret," the latter being the musical that won Prince his first Tony for direction and is considered the musical that ushered in the modern age.
Harold Prince lived a long and productive life in which he realized his vision for the American musical. Here is a sampling of some of the shows he was involved in with YouTube videos.
The Pajama Game
Harold Prince first show as a producer (with his partner Robert E. Griffith) was this Richard Adler/Jerry Ross musical about a labor dispute in a pajama factory. It was an old school musical about an unusual subject, and featured the choreographic debut of Bob Fosse, who staged one classic number, "Steam Heat, here seen in a clip from the 1956 film adaptation.
West Side Story
Few musicals have the reputation of "West Side Story," though it wasn't a blockbuster hit when it opened in 1957. Sure it received accolades for Jerome Robbins' electrifying choreography and for its gritty look at gang warfare in New York's Upper West Side, but it was more respected by critics more than loved. Its 1961 film version established it as a cultural icon; since then stage productions have offered recreations of the original, right down to Jerome Robbins choreography. Not so this year as another visionary director Ivo van Hove works with choreographer Anne Teresa de Keersmaeker, on a new version that opens on Broadway in December.
Flora the Red Menace
One of the numerous musicals Prince was involved in as producer was "Flora the Red Menace" in 1965 which is famous for bringing Liza Minnelli to Broadway (and her first Tony Award). It also brought Prince in contact with John Kander and Fred Ebb, the young songwriting team he would work with the following year with "Cabaret." The show only ran 87 performances, but Minnelli won the Tony, making her the youngest person to win an acting Tony Award, up to the time, as this clip of the very young Minnelli singing "Sing Happy" on the Ed Sullivan Show shows.
A Funny Thing Happened on the Way to the Forum
One of the most famous stories of Sondheim lore is how Harold Prince stuck with "A Funny Thing Happened to the Forum" when it was doomed during its Washington DC tryout in 1963. As Stephen Sondheim said in Prince's New York Times obit: "One quality Hal has is he refuses to accept defeat," Mr. Sondheim recalled in the 2016 interview. "When we opened 'Funny Thing' in Washington and it got scathing reviews, we played to 50 people in a 1,200-seat auditorium. Almost any other producer would have closed it. Hal was willing to go ahead and take a chance on it. It wasn't even that he loved the show that much, but once he was there, it was his baby, and he fought for it." As the story goes, Jerome Robbins was called in and said the show's biggest problem was its opening number. Sondheim wrote a new one — "Comedy Tonight, which Robbins staged for its New York opening, and the show was an immediate hit, winning a Tony for Best Musical. It has been revived subsequent times, including a 1996 revival that featured Nathan Lane.
Cabaret
The huge success of "Fiddler on the Roof," which Prince had produced, gave him the liberty to pursue more adventurous projects, which he both produced and directed, the first of which was "Cabaret" in 1967. With its mix of traditional Broadway story telling mixed with commentary on the changing social and political mores of Weimar Berlin, "Cabaret" was the first concept musical. With a spectacular score by Kander and Ebb, Prince conceived the show as something close to a fevered dream with one of the most spectacular openings in history featuring Joel Grey in the role that would make him a star.
Company
Prince's first collaboration with Stephen Sondheim had the shock of the new when it premiered in 1971. A contemporary musical about modern marriage, it was told in a collage-like manner as it told of how its protagonist, a 30-something bachelor named Bobby, interrelates with the married couples he calls his friends. Along the way it tells home truths about the need for relationships. One of its high points was "The Ladies Who Lunch," sung by Elaine Stritch, who is seen is this rare footage from the period singing the song.
Follies
Prince and Sondheim followed "Company" the following year with what may be their greatest achievement — a musical about how the past haunts the present as seen at a reunion of old Follies girls in an abandoned theater about to be turned down. Inspired by a photo of Gloria Swanson standing amongst the rubble of the Roxy Theater, one of New York's major movie palaces, it pivoted between a contemporary story about two broken marriages and musical numbers that recreated the songs of Broadway's golden era. Sondheim wrote his most evocative score, but what made "Follies" an event was Prince's spectacular production, which ended with a Fellini-like extravaganza — a recreation of a Follies show in which its battling couples were the stars. Below is a compilation of clips from the original production, which had the misfortune of opening in the time before video.
A Little Night Music
After the failure of "Follies," Prince and Sondheim were determined to have a hit and they found it in their adaptation (with Hugh Wheeler's assistance) of an Ingmar Bergman film about the vagaries of romance. Set in late 19th century Sweden, "A Little Night Music" has Sondheim at his most lyrical (he wrote the score in variations of waltz rhythms.) and features what became his best-known song, "Send in the Clowns," here recreated for a television special by its original stars, Glynis Johns and Len Cariou.
Pacific Overtures
None of Prince's productions were as beautiful as his adventurous 1976 musical about the opening of Japan to the West in the 1850s. Hardly the stuff of a traditional musical, Prince further pushed the envelope by using the strict conventions of Kabuki theater in telling the story. The result was a cross-cultural musical that came to Broadway during the season of "A Chorus Line." With its Asian cast, the show limped through a six-month run, though wasn't without its enthusiasts, who embraced Sondheim's score and librettist John Weidman's fascinating take on this little-known chapter in American history. A Japanese produced television version, filmed at the Winter Garden Theatre shortly before the show closed, offers a look at this rarified spectacle.
Sweeney Todd
On paper "Sweeney Todd" sounded like a joke: a musical about a barber who slits the throats of his patrons, then gives the bodies to a baker as ingredients for meat pies. Yet the show was far from a joke (though often very funny). As conceived by Sondheim and (again) Hugh Wheeler, based on a London legend, it framed the story as one of revenge, and it was served up in an enormous production that filled the cavernous Uris Theatre. With Len Carious as its murderous title character and Angela Lansbury as his accomplice, "Sweeney Todd" approached opera in its scope, and its original staging — preserved in video — remains one of Prince's greatest trumps.
Evita
Prince took a break from his working with Sondheim to stage a musical by the British team of Andrew Lloyd Webber and Tim Webb. The rock opera "Evita," based on the life of Eva Peron (the wife of Argentine dictator Juan Peron), was conceived as a concept album, but Webber envisioned it as a stage musical and invited Prince to London for a West End production. "Any opera that begins with a funeral can't be all bad," Prince said at the time. The show ran for nearly 3,000 performances in London and nearly 1,600 in New York where it made a star of Patti Lupone. Watch Lupone, Bob Gunton and Mandy Patinkin perform "A New Argentina" at the 1980 Tony Awards.
Merrily We Roll Along
Few flops have the drama that "Merrily We Roll Along" had during its brief life in 1981. Based on a 1930s hit by Kaufman and Hart, the musical used an unusual device: it told the story going back in time. Sondheim and collaborator George Furth updated the story to tell of the cautionary tale of composer Frederick Shepherd, who traded his integrity for fame as he climbed to the top, first on Broadway, then Hollywood. Complicating matters is that Prince cast teenagers to play the roles who wore t-shirts that defined their characters. Making matters worse the show opened cold in New York and the tabloids had a field day covering its difficult road to opening night. It marked the end of the string of musicals that Sondheim and Prince had made over the past decade. They wouldn't work again until xx when Prince directed a production of "Bounce," Sondheim's most recent musical. Watch the complete show below in this bootleg tape:
Grind
By 1985 Prince's career had hit a snag. Three years earlier, "A Doll's Life" famously flopped. With "Grind," he hoped to use the theater-as-metaphor concept to tell a story of racial tensions in a burlesque house during the Depression. Some of the problems with the show stemmed from star Ben Vereen, who insisted his part be expanded, which threw the balance of its story off. Whatever the reason, "Grind" was another costly flop for Prince.
The Phantom of the Opera
That "Phantom of the Opera" has outlived Mr. Prince is a testament to this mega-musical's enormous appeal. Again working with Andrew Lloyd Webber, Prince conceived the musical as something close to a B-horror movie and amped it up with some nifty special effects (including a chandelier that appeared to fall onto the audience at the first act curtain). He also was able to turn the mysterious Phantom into a pitiable figure, which gave the musical an emotional heft. It is still running on Broadway after some 13,000 performances. Watch Sarah Brightman and Michael Crawford perform "The Music of the Night."
Kiss of the Spider Woman
Prince again collaborated with Kander and Ebb for a musical adaptation of Manuel Puig's novel about the relationship between two prisoners in a Latin American prison. One is a political prisoner, the other a window dresser jailed on moral charges who is obsessed with a famous movie star, played by Chita Rivera. Watch this clip of Rivera performing "Where You Are" on the Tony Awards.
Show Boat
In 1994, Prince set out to make Jerome Kern and Oscar Hammerstein's "Show Boat" relevant for contemporary audiences. The 1927 musical, long thought to be the genre's most serious to date, is filled with outdated racial tropes that would be offensive to modern audiences. Prince oversaw the trimming of the book, dropping and adding numbers and underscoring the racial tensions. His lavish production turned out to be the longest running edition of the show to play Broadway and won him his xx Tony for direction. Watch this clip from the 1995 Tony Awards featuring John McMartin and Elaine Stritch with the production's finale.
Prince of Broadway
Prince's final Broadway show was a revue that played tribute to his amazing career. Though in planning stages for years, it didn't reach a stage until 2015 when it premiered in Japan. The Manhattan Theatre Club brought it to New York two years later it came to New York where it ran 23 previews and 76 performances. You can get a taste of the show below.
Comments on Facebook