Love, Noël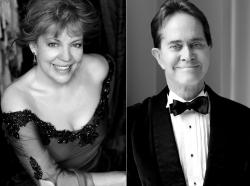 As the title suggests, The Irish Repertory Theatre's production of "Love, Noël", is comprised mostly of letters written by Coward throughout his long, distinguished career. More private than his autobiographies, which were written to be published, the correspondences provide a personal, abbreviated biography of Coward's life, and create a structure that's embellished with nearly two dozen songs from his vast repertoire. Coward's pithy, urbane, yearning voice comes effortlessly to life in the letters and the lyrics.

The show begins with Coward writing to his "Darling Mommie," while he is touring the provinces, desperate to be a star, and ends with letters to Marlene Dietrich, one of his many female companions over the years. As Coward "did everything and knew everyone," the show promises an entertaining journey. But throughout the production, many of his dearest chums die, and as a result, "Love, Noël "suggests a sort of memorial, as if an elderly Coward, with one foot in the grave, is looking back on his life, wistfully.

The two-hander, directed by Charlotte Moore, stars celebrated cabaret performers KT Sullivan and Steve Ross. Ross, who accompanies the songs on an elegant Steinway piano, is the Coward surrogate, and Sullivan steps into the personas of the many women in his life including Mary Martin, Greta Garbo, Elaine Stritch, and most significantly, "Gertie" Lawrence.

A few of the songs are upbeat. Sullivan brings down the tiny house with a full-throttled "Why Do The Wrong People Travel," written for "Sail Away" and originally performed by Stritch, Ross dexterously delivers the patter song, "Mrs. Worthington," and the pair are delightfully droll in "World Weary" and "Bronxville Darby and Joan." But most of the songs are full of longing and regret, and Sullivan's delicate soprano is lovingly on display in "If Love Were All," "Someday I'll Find You" and "Never Again." It's an intimate, relaxed, subdued production, if not exactly a lively one.

Given the secret nature of his letters, the show doesn't shy away from Coward's homosexuality, and a humorous, seldom-performed "gay" verse he wrote for "Mad About the Boy" is deliciously naughty. More surprising, many of Coward's female friends are revealed as bisexual.

The show is devised and written by Barry Day, who has published many books on "The Master," including "The Letters of Noël Coward." At times, Day's linking dialogue suggests forced set-ups, as when Sullivan asks Coward/Ross, "Weren't many of your letters written while you were travelling?;" and "Didn't you welcome a few visitors?" The letters are props in the production, and the actors read from them directly, making the actors' connection with the audience a bit remote.

Many of the tunes will be familiar to Coward aficionados, but a few obscure gems like "I'll Remember Her" and "I Wanted To Show You Paris" are an added treat.

The elegant period design by James Morgan consists of richly colored blue walls with warm lamps, elegantly decorated pillars, a luxurious armchair, a vase of white and red roses, and a bust of Coward. Sullivan looks smart in a patterned red shawl over a black skirt, and a purse, and Ross is dapper in Coward's trademark tuxedo. The production is in the intimate, downstairs space at Irish Rep, as if the audience has stepped into Coward's living room. It's a tender, bittersweet show, always pleasant and never coy. It's a poignant, nostalgic reminder of a gentler time in musical theatre history. "Love, Noël" admirably commemorates Coward, without bringing him fully to life.

"Love, Noël" continues through August 25 at The Irish Repertory Theatre, 132 West 22nd Street, New York, NY. For more information, visit The Irish Repertory Theatre website.
Comments on Facebook