Bat Out of Hell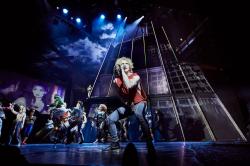 I have always been a fan of the songs of Jim Steinman. I especially loved the work he did with Bonnie Tyler ("Total Eclipse of the Heart," "Holding Out for a Hero") and Barbra Streisand ("Left in the Dark"). None of these three songs are included in "Bat Out of Hell—The Musical," by the way.
Sure many of Steinman's songs are cheesy, bombastic and overlong but they are simultaneously dynamic, diva-licious and vocally spectacular, with more than a hint of desperation. The same thing could be said about this new musical, making its way overseas from its London success (with audiences, not really with critics).
Steinman's smash album written for Meatloaf "Bat Out of Hell," released in 1977, is still popular today so why not turn it into a musical? Why not, indeed.
I have the dubious distinction of being one of the few folks who saw his ill-fated floperoo, "Dance of the Vampires," in 2002. What a mess, but a campy mess.
Under the bat-shit direction of Jay Scheib, the musical "Bat Out of Hell" is set in a dystopian future in a city called Obsidian, where climate change and chemical warfare (I think) have produced the Lost, a gaggle of mutants frozen at the age of 18 (and looking like glam rock roadies), led by Strat (Andrew Polec).
Strat has it bad for Raven (Christina Bennington) the daughter of totalitarian overseer, Falco (Bradley Dean) who has a rather tempestuous relationship with his wife, Sloane (Lena Hall).
I won't go on, because I'd rather not. The plot (which owes a lot to "Peter Pan" — and do we really need another musical homage to "Peter Pan?") is silly and incoherent. If as much thought had gone into the book (by Steinman) as the extraordinary set (by Jon Bausor, who also did the costumes) then this could have become a cult classic. It's actually infuriating how little thought Steinman had for his stage narrative.
But that's because he knew he had audiences hooked with his music and lyrics — songs we've all been singing forever — from a rousing, balls out "Paradise By the Dashboard Light" (Dean and Hall) to a stirring "Two Out of Three Ain't Bad" (a commanding Danielle Steers, as Zahara, a character that makes no dramatic sense) to each and every tour de force number performed by the indefatigable Polec, who makes this show watchable even when every core of your being is telling you to run for the streets!
The super sexy Polec is a refreshing type of leading man, sexually fluid, supremely odd, yet almost feral.
Oh, and a special shout out to the incomparable Hall who also makes the most of all of her moments. She seems to know the drek she is in and decides to have the time of her life and kill and destroy every lyric (in the best possible way).
Are the familiar and over amplified songs enough to recommend the show? No. Are the wacky, off-the-cliff performances and amazing voices enough? Maybe.
It is telling when you want to root for the only fully queer character in a production but you find yourself happy and relieved when that character is killed.
A little more substance would have gone a long way here, instead, if you're intrepid enough, prepare for the long journey to hell. (The show runs 2 hours and 45 minutes but feels like 5 hours!)
"Bat Out of Hell" is playing through September 8, 2019 at New York City Center, 131 W. 55th Street, NYC. https://www.nycitycenter.org/
Frank J. Avella is a film and theatre journalist and is thrilled to be writing for EDGE. He is also a proud Dramatists Guild member and a recipient of a 2018 Bogliasco Foundation Fellowship. He was awarded a 2015 Fellowship Award from the NJ State Council on the Arts, the 2016 Helene Wurlitzer Residency Grant and the Chesley/Bumbalo Foundation Playwright Award for his play Consent, which was also a 2012 semifinalist for the O'Neill. His play, Vatican Falls, took part in the 2017 Planet Connections Festivity and Frank was nominated for Outstanding Playwriting. Lured was a semifinalist for the 2018 O'Neill and received a 2018 Arch and Bruce Brown Foundation Grant. Lured will premiere in 2018 in NYC and 2019 in Rome, Italy. LuredThePlay.com
Comments on Facebook