For what is believed to be the first time in its 92-year run, "Parents" Magazine has put a same-sex couple on its cover. What's less surprising is the response that the anti-LGBTQ group billing itself as "One Million Moms" has had.
Almost no policy is too liberal for Democrats fighting to win over their party's base, which is demanding a presidential nominee dedicated to pursuing bold action on America's most pressing challenges.
— Alfonso Cuaron's "Roma" and Yorgos Lanthimos' "The Favourite" led all films with 10 nominations each to the 91st Academy Awards, while Netflix and Marvel each scored their first best picture nomination.
Lesbian vloggers BerkleyLovesTori head to Hawaii for a 15-day adventure aboard Princess Cruises — this is what they discovered!
More details have emerged about Ed Buck, the openly gay, high-profile political activist and donor to Democratic candidates in whose home a second gay African American man was recently found dead.
German Chancellor Angela Merkel warned Tuesday against rising nationalism in Europe and called for a revival of cross-border cooperation as she and her French counterpart signed a pact renewing their countries' decades-long friendship.
Wealth inequality around the world is "out of control" and doing particular harm to women, anti-poverty campaigner Oxfam warned Monday ahead of the annual gathering of business and political leaders in the Swiss ski resort of Davos.
Older adults need to eat more protein-rich foods when losing weight, dealing with a chronic or acute illness, or facing a hospitalization, according to a growing consensus among scientists.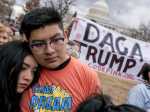 The Obama-era program that shields young immigrants from deportation and that President Donald Trump has sought to end seems likely to survive for at least another year.
Little seemed to make sense in Thom Browne's gender-defying display but the sheer eccentricity of the proceedings somehow made it work. (Photos: AP/Francois Mori)