SAGE and ASA Condemn Administration's Proposed Affordable Healthcare Act LGBTQ Discriminations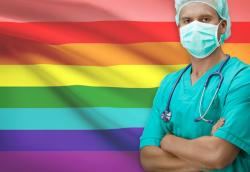 Yesterday, in response to the Trump administration's proposal to undermine protections that bar discrimination on the basis of gender identity and sex stereotyping in the Affordable Care Act, SAGE and the American Society on Aging (ASA) released a joint comment supporting LGBT-inclusive implementation of section 1557 of the Affordable Care Act.

By law, the government must consider public comments before implementing a new rule. A high number of comments forces the administration to study the issue further and it is the best illustration of public opposition. In addition to their joint comment, SAGE and ASA are asking their supporters to uphold section 1557 by submitting their own comments at www.protecttranshealth.org, a project of the National Center for Transgender Equality and the Transgender Law Center. The comment period ended on August 13, 2019.

Section 1557 of the healthcare law prohibits discrimination on the bases of age, race, color, disability, national origin and sex. The Obama administration interpreted the law as also barring discrimination on the basis of gender identity and sex stereotyping. Undermining these protections will put the lives of LGBT older people and particularly transgender elders in jeopardy by emboldening insurers, hospitals, long-term care facilities and other providers to withhold care.

"In May, SAGE condemned the administration for undermining the health and wellbeing of aging LGBT people with its attempt at undercutting safeguards for LGBT people in the Affordable Care Act," said Michael Adams, CEO of SAGE.

Adams, who will become the ASA board chair in 2020, continued, "Our joint comment with ASA emphasizes the need to maintain robust implementation of the protections of section 1557 of the ACA so that health and long-term care providers do not have an open invitation to discriminate against the patients they should be serving."

Paul Downey, ASA Public Policy Committee Co-Chair, said, "This proposed rule change is discriminatory because it erodes critical protections for vulnerable Americans seeking health care. It represents yet another attempt by the administration to dismantle fundamental provisions of the Affordable Care Act to the detriment of people who need the coverage most."
Comments on Facebook