A personal account of how medical bills can amplify the struggle families face during a critical illness.
Detoxing off heroin or opioids without medication is sheer hell. I should know.
Cigarette smoking rates have stopped falling among U.S. kids, and health officials believe youth vaping is responsible.
As a doctor and epidemiologist who studies sex, I bring good news for Valentine's Day. It's not just that sex is fun — it's also good for your physical and mental health.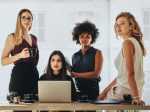 If you care about the future of abortion rights, now is a good time to worry.
Do men seeking a more socially acceptable self-image exaggerate their penis size?
Darlene DiBona of Odyssey Wellness Tattoo specializes in working with people who have undergone mastectomies and gender reassignment surgery.
Recovery Unplugged's Chief Strategy Officer Paul Pellinger shares why the power of music is so impactful in alcohol and drug treatment and rehabilitation.
There are a lot of factors that contribute to ED, but only one ED facility in New York City is on a mission to educate and "revitalize your sex life."
Demand for measles vaccine has surged in the Washington county where the highly contagious virus is linked to more than 50 confirmed illnesses this year — including among people who had previously shunned the shots.