Virginia Man Donates Kidney to Protest Gay Blood Donation Restrictions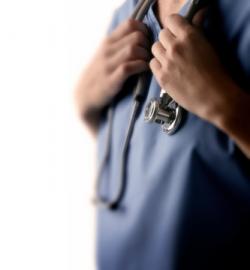 Barton Lynch has always considered himself as a giving person, and for a long time, he regularly gave blood to honor his father who was diagnosed with cancer when Lynch was a freshman in college. Since he started dating both men and women recently, he hasn't been able to give blood due to an FDA rule that says men who have sex with men cannot donate until 12 months have passed since their last homosexual contact. The FDA says this rule is based on the "most recent available scientific evidence" and aimed at preventing HIV transmission.
The rule was changed in 2015, ending the 1980s-era lifetime ban on gay and bisexual men donating, but Lynch and many LGBTQ activists say the rules are unfair and prevent healthy people from donating.
Activist group The Human Rights Campaign called the 2015 policy change a "step in the right direction," but said the new policy, "still falls short of a fully acceptable solution because it continues to stigmatize gay and bisexual men," according to CNN.
The Advisory Committee on Blood Safety and Availability noted in a letter to the Department of Health and Human Services: "the current donor deferral policies are suboptimal in permitting some potentially high risk donations while preventing some potentially low risk donations."
Lynch decided he wanted to make a statement on the issue, and to help someone in need at the same time, so he checked into MedStar Georgetown University Hospital in Virginia to donate a kidney. This process does not have the same restrictions on men who have sex with men, and he hopes by doing it, he can raise awareness among gay and bisexual men about other ways besides blood donation that they can help out.
"I didn't go to work for three days," Lynch said to Washingtonian, "so that someone could have their life given back to them."
He described the process for donating as "a lot easier than you think."
"They had to collect 24 hours worth of urine, which was the worst part of the entire experience because I had to bring my jug into the office. I didn't tell anybody, but it was really weird. Basically, after that, they let you know when you can donate, they look for someone who is a match for your blood type, and they find a recipient. It was only two weeks between them telling me the date and the surgery happening, and, I mean, the process of actual surgery was pretty easy. I was walking the same day, I went home the next day, and the pain was very low."
He said that after the procedure, he sent a letter to the Secretary of Health and Human Services asking for an update to and reform of the blood donation policy in the States.
"When we are constantly in need for blood, as a society, and you're excluding an entire category of people for a reason that's not based in science, it's crazy to me," Lynch said.
The Red Cross recently declared it has a critical need for Type O blood, saying: "Currently there are just six units of type O blood available for every 100,000 people, but at least two times that amount is needed every day."
Activists suggest that changing the rules for blood donation to a risk-based assessment could help alleviate blood shortages.
As for Lynch, he says: "I did hear that it was a successful surgery... I'm just reaching out and trying my best to raise awareness. I mean, I'm one person but I'm trying to make the noise that I can."
Comments on Facebook