Top Story
Is Donald Trump good for the LGBTQ community? Log Cabin Republicans think so.
The R-rated comedy, left for dead by some Hollywood studios, again reached No.1 at the box office over the weekend thanks to the raunchy coming-of-age tale "Good Boys," about a trio of 12-year-olds on a crude misadventure.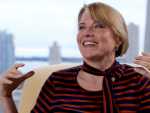 This documentary talks about the importance of LGBTQ+ television representation, as well as the particularities and power of queer fandom.
Come on, vogue in this queer immigrant French dance documentary.
The shorts in "Transfinite" celebrate trans folks as literal magical beings.
Chef Mario Batali, whose career crumbled amid sexual misconduct allegations, no longer owns a stake in Eataly, the Italian marketplaces he once heavily promoted.