Catch the latest reports on your favorite (or not-so-favorite) celebrities at PopUps.
Jessica Lange starred in four seasons of "American Horror Story" and recently made a return to the FX anthology series last year. But speaking with The Wrap, the Oscar-winning actor said she'll likely never return to the show.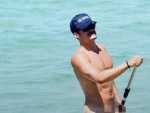 Orlando Bloom recently spoke with Howard Stern to discuss a number of topics, according to the British newspaper The Sun, and opened up about 2016 paparazzi photos of the actor that showed him fully naked.
Lana Del Rey's fifth major-label album is out today, but the singer is already working on a followup.
Justin Bieber and wife Hailey Baldwin have adopted a new cat named Sushi and the duo have been sharing a number of photos of their pet on social media.
Taking to Instagram earlier this week, pop star Justin Bieber shared a few photos with his fans, declaring his "style is impeccable."
The end of summer may be approaching, but that's not stopping actor Jared Leto from sharing some super sexy "hot girl summer" pics.
Amazon shared a calendar to the press to promote the company's new superhero show "The Boys" but it's actor Chace Crawford's March photo that has people talking.
Not long after Justin Bieber shared a shirtless selfie showing off his massive tattoo collection, the pop star again took to Instagram Tuesday to share a pic of himself, showing off his new teeth grill and eyebrow piercing.
Never underestimate the power of a shirtless Justin Bieber selfie!
After photos of Nick Jonas enjoying his summer while on a yacht in Miami went viral last week, some fans lost their minds over the "Jealous" singer's physique.