South Florida Gay News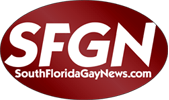 The South Florida Gay News.com celebrates the lives of South Floridians with daily news briefs and storied features, breaking news and lifestyle profiles. Check out their website at southfloridagaynews.com.
An Australian Catholic school allowed two transgender students to choose their own school uniforms to match their gender identity.
French software company Fireworld has unfurled spyware which allegedly may help parents discover whether their son is gay.
Several media outlets reported Tuesday that Secretary of Defense James Mattis halted the ban on transgender people serving in the military. But is that fake news?
Last week, an Auburn High School classroom in Alabama put an LGBT pride flag on display made by members of a school club. Now, hundreds of people have signed a petition to have it torn down.
"Hook Ups Vol. 1," a collection of short, two-man plays opening this weekend at Andrews Living Arts in Fort Lauderdale's FAT Village, explores the primal search for love and connection through modern technology.
As national Republicans speak out on President Donald Trump's statements about the violence in Charlottesville, Virginia, which occurred the weekend of Aug. 12, local Republicans are also weighing in.
The first ever LGBT TransInclusive Prom will take place on August 26, at the Roadway Inn located in Fort Lauderdale.
Race preference in the gay community always carried problematic implications. A new gay dating app plans to start fresh.
Former Romanian Orthodox Church Bishop Corneliu Barladeanu, 51, got caught with his pants down on tape after a tape was released showing him erotically involved with a male student.
The folks at A Way Home America, Rapid Results Institute, and HomeBase have come up with a solution to end teen homelessness, dubbed the 100 Day Challenge.