Top Story
Charlize Theron is revealing that she's raising her child Jackson, whom she adopted and introduced to the world as a boy, as a girl.
1 thru 10 of 47803 Stories
Special counsel Robert Mueller all but boldfaced this finding in his report on the Russia investigation: No exoneration for President Donald Trump on whether Trump criminally obstructed justice. That's not how Trump is spinning it.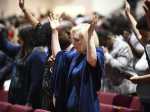 By now, most Democratic presidential candidates have polished their stump speeches. But when they're in South Carolina, they may need to add in a sermon.
President Donald Trump lashed out Friday at current and former aides who cooperated with special counsel Robert Mueller's investigation.
The legal threat to Trump that seemed so dangerous upon Mueller's appointment in May 2017 has waned.
Police in Northern Ireland on Saturday arrested two teenagers in connection with the fatal shooting of a journalist during rioting in the city of Londonderry.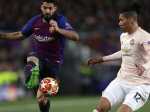 Social media companies did not appear to respond on their networks to the players' concerns despite widespread coverage and support from FIFA for the boycott.
Kentucky's lightning-rod governor also has run the risk of firing up Democratic voters heading into the November general election.
French yellow vest protesters set small fires as they marched through Paris on Saturday to drive home their latest message to the government: That rebuilding the fire-ravaged Notre Dame Cathedral isn't the only problem the nation needs to solve.
A Florida man unleashed threatening rants over the phone against three Democratic members of Congress, as he raged against gun control, illegal immigration, homosexuals, black people and Muslims, authorities said.
Attackers stormed a hospital at the epicenter of Congo's Ebola outbreak and killed "a dear colleague," the head of the World Health Organization said Friday as he condemned the latest violence against health workers trying to contain the virus.
1 thru 10 of 47803 Stories