A federal agency is suing Kroger's grocery chain, claiming that the company discriminated against the religious convictions of two employees who refused to wear aprons embroidered with "gay" hearts.
The brash and aggressive style of TMZ apparently carries over into the workplace, where current and former employees have alleged regular occurences of verbal abuse, misogyny, racism, and more, according to Buzzfeed.
Dick Powers is happy to be known as The Naked Rancher, as his cheeky (in more ways than one) Instagram posts can attest.
It was a busy Taco Tuesday at Midnight Sun Brewing Co. in Anchorage, Alaska — a blessing these days at any restaurant — when a guy at a table with three buddies wanted to chat with their waitress.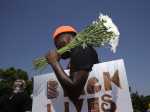 Ahead of Labor Day, unions representing millions across several working-class sectors are threatening to authorize work stoppages in support of the Black Lives Matter movement amid calls for concrete measures that address racial injustice.
Human Rights Campaign and PSB Insights recently conducted a study on the disproportionated impact of the COVID-19 pandemic on LGBTQ people versus non-LGBTQ people.
A comedian and actress told the Daily Mail this week that Ellen DeGeneres tried to get her suspended from her job as a server in Los Angeles back in 2014...because she had chipped nail polish.
Hospitals, clinics and other health care facilities have flouted that simple guidance, pressuring workers who contract COVID-19 to return to work sooner than public health standards suggest.
McDonald's says it's suing Stephen Easterbrook, the CEO it ousted last year over an inappropriate relationship with an employee, alleging Monday that he covered up relationships with other employees and destroyed evidence.
A former producer of "The Ellen DeGeneres Show" spoke out against the titular talkshow host in an interview with "Inside Edition" and didn't hold back about her ex-boss.