Top Story
President Donald Trump is putting forth a false "Choice" when he boasts about a program aimed at improving veterans' health care by steering more patients to the pri...
1 thru 10 of 15527 Stories
In June, Skittles will again remove its signature rainbow design from packaging and the colors from its candies to recognize LGBTQ Pride month.
For students at technical and trade colleges, the coronavirus is disrupting their education in a very different way than that of more traditional college students.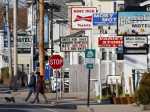 The coronavirus pandemic has thrown tens of millions of people into financial turmoil. But not everyone is feeling the pinch. Not yet, at least.
San Francisco is joining other U.S. cities in authorizing homeless tent encampments in response to the coronavirus pandemic, a move officials have long resisted but are now reluctantly embracing.
Farmers across the nation leaned more heavily upon the federal government last year to finance their agricultural operations amid low commodity prices and trade disputes.
Elizabeth Shirey, 38, was charged with assault and battery after grabbing Skhylur Davis' arm as she walked back to her grandmother's house in Aiken with her mail, according to a police report.
None of these are legit, even though they were shared widely on social media. The Associated Press checked them out. Here are the facts.
Entrepreneurial types who freelance and side hustle their way through the week likely have access to a tool that could help them thrive: A business credit card.
Trump, who has voted by mail absentee as recently as this March in Florida's Republican presidential primary, did say he would support exceptions for those who are sick — or are president.
It is becoming all too clear that without a vaccine against the scourge, the disruptions could be long-lasting and the economy won't be bouncing right back.
1 thru 10 of 15527 Stories