Review: Subpar Remake 'The Haunting' Looks Its Best on this Blu-ray Release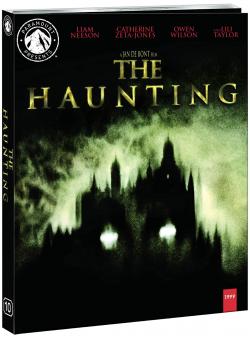 Not every actor/actress can be the ultimate "scream queen" in a horror film. Just take a look at the cast from "The Haunting" as a prime example, a movie filled with so many special effects that it detracts from an interesting story. But as part of a new "Paramount Presents" Blu-ray series, the 1999 remake is surely one hell of a ride.

"The Haunting" appears to be three different movie genres all in one: A drama, a haunted house horror film, and an over-the-top CGI effects extravaganza. The drama portion succeeds, and Lili Taylor gives a believable performance as a young woman tormented by her past. Taylor stars as Nell, someone whose mother has just passed away and who is given an ultimatum by her conniving sister and brother-in-law.

Nell chooses to join a research study headed up by Dr. Marrow (Liam Neeson). His experiments of controlling sleep-deprived adults are taking place at the foreboding Hill House Mansion, one that may just have been born bad (to quote the tagline of the film).

Along for the ride are two other patients: The somewhat miscast Catherine Zeta-Jones, and Owen Wilson.

There's also the slew of skeletons, ghosts, and an array of spooky monsters. As seen in the "Filmmaker Focus" special feature, director Jan de Bont was told by the studio to add several more scenes of "scares." While viewing 'The Haunting," it becomes glaringly obvious which scenes de Bont refers to. He also discusses his love for the cast and how the many sets were built.

There's also a vintage behind-the-scenes featurette included, culled from a prior DVD release.


"The Haunting" is out on Blu-ray from Paramount Presents on Oct. 20.
Ken Tasho is a Corporate Drone by day and Edge Contributor by night. He has a love for all things '80's and resides in the Wayland Square area of Providence, RI...but would much rather be sharing an apartment in NYC with '80's rock goddesses Pat Benatar and Deborah Harry.
Comments on Facebook