Palmetto Harmony
There are easy ways to create a custom spa experience in the comfort of your home. Better still, adding CBD as your star ingredient can take your DIY spa experience to a new level.
With Mother's Day and Father's Day around the corner, CBD can be that unexpected gift to elevate the celebration and help loved ones feel their best.
The influx of CBD brands can feel overwhelming. So when Harmony CBD decided to get a new look, the team was determined to reflect the brand's mission and values — and to stand out in a crowded field.
Harmony CBD has harnessed hemp's power to create a line of skincare products that will have us looking better than ever in 2021.
Harmony CBD combines South Carolina-grown hemp with organic herbs and essential oils to create a collection of topicals for daily skincare, muscle fatigue and more.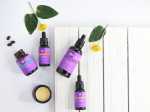 With her daughter's life at stake, Janel Ralph researched and launched a vertical CBD company to minimize the effects of a rare brain disease. Now, Harmony CBD is helping customers of all kinds.
A desperately sick child. A mother who refused to take "no" for an answer. It was this call to action that motivated the launch of Harmony CBD, an organic American hemp company.