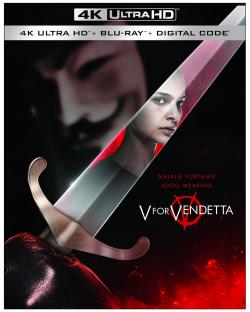 WARNER BROS. HOME ENTERTAINMENT ANNOUNCES DC's

V FOR VENDETTA

TO BE RELEASED ON 4K ULTRA HD BLU-RAY COMBO PACK AND DIGITAL

WRITTEN BY THE WACHOWSKIS,
V FOR VENDETTA
WILL BE AVAILABLE FOR THE FIRST TIME IN 4K RESOLUTION WITH
HIGH DYNAMIC RANGE (HDR)

Own it November 3rd on 4K Ultra HD and Digital

Warner Bros. Home Entertainment announced today that DC's V for Vendetta, 2005's thought-provoking action thriller from the creators of The Matrix trilogy, will be released on 4K Ultra HD Blu-ray Combo Pack and Digital HD on November 3rd, 2020. From producer Joel Silver, V for Vendetta was written and produced by the Wachowskis (The Matrix Trilogy), and stars Natalie Portman and Hugo Weaving. The film was directed by James McTeigue (Ninja Assassin).

Set against the futuristic landscape of totalitarian Britain, V for Vendetta tells the story of a mild-mannered young woman named Evey (Portman) who is rescued from a dire situation by a masked vigilante (Weaving) known only as "V." Incomparably charismatic and ferociously skilled in the art of combat and deception, V ignites a revolution when he detonates two London landmarks and takes over the government-controlled airwaves, urging his fellow citizens to rise up against tyranny and oppression. As Evey uncovers the truth about V's mysterious background, she also discovers the truth about herself — and emerges as his unlikely ally in the culmination of his plot to bring freedom and justice back to a society fraught with fear, cruelty and corruption.

V for Vendetta is an electrifying story of an everyday woman in futuristic Britain who becomes the unlikely accomplice of a mysterious freedom fighter in his radical effort to rid the country of oppression. Based on the powerful graphic novel, V for Vendetta stars Academy-Award winner Natalie Portman (Black Swan, Thor, Star Wars films), Hugo Weaving (Transformers film series, The Lord of the Rings trilogy, The Matrix trilogy), Stephen Rea (The Crying Game), Stephen Fry (Wilde, The Hobbit film series), John Hurt (Nineteen Eight-Four, the Harry Potter film series), and Tim Pigott-Smith (Alexander, Quantum of Solace).
Enter this contest
If you already have an account with EDGE, all you need to do is log in; we'll pull your address information from your account and simply ask you to verify it. If you do not yet have an account with us, register now! It's easy and free, and you'll never have to type in your personal information again. If you prefer to enter this information manually, you can use the manual entry link below.
Register
Click here for contest rules.
* Please be aware that creating multiple accounts for the same person will disqualify you.