Gay Philadelphia: The Latest
Despite cautioning the Catholic faithful in attendance about the risks of COVID-19, Pope Francis and his aides did not wear masks at Wednesday's general audience.
i-D has just released a new, brief but stark documentary on discrimination and increased violence against LGBTQ people in Poland.
British pop star Sam Smith credits Lady Gaga for inspiring them to accept their queerness.
With next week's election looming, the CEOs of Twitter, Facebook and Google received a hectoring from Republicans at a Senate hearing Wednesday for alleged anti-conservative bias in the companies' social media platforms.
CBD Unlimited is a market leader within CBD industry. Better Products, Better You! Strive to Be Unlimited!
www.cbdunlimited.com
Move over, Malibu Barbie, and make room for the Elton John-inspired edition, complete with '70s-style wardrobe, enormous rose-colored glasses, and an even more enormous hairdo.
In this busy election year, why is a local contest in the Florida city of Wilton Manors getting renewed attention? The answer is the candidacy of Juan Melecio (aka adult male star Antonio Biaggi).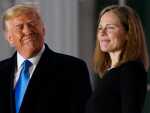 Equality advocates fear that with the confirmation of Amy Coney Barrett to the U.S. Supreme Court, a rapid dismantling of the rights and protections of LGBTQ Americans could get underway as soon as next week.
With love and pranks, Ian Paget and Chris Olsen are among millions of U.S. newbies looking to soak up social media stardom on TikTok.
Has Lady Gaga's "Chromatica" jockstrap been replaced? According to Twitter, the latest undergarment to own is Nike's simple black jockstrap.
"We have a community whose members are making a voting plan," says one expert. "LGBTQ and trans women are more likely to vote by mail than straight women, and more LGBTQ women plan to vote overall."
Tis reboot/sequel to the '90s cult classic fails to cast a spell.
How comfortable would you be taking a road trip to a destination with no LGBTQ anti-discrimination laws? It's a conundrum that many LGBTQ travelers face as they choose drivable destinations over long-haul flights.
The White House and many Americans have pinned their hopes for defeating the COVID-19 pandemic on a vaccine being developed at "warp speed." But some scientific experts warn they're all expecting too much, too soon.
If the Supreme Court throws out the Affordable Care Act, your finances and your future could pay the price.
Volkswagen is recalling more than 218,000 Jetta sedans in the U.S. to fix a fuel leak problem that can cause fires. The recall covers certain cars from the 2016 through 2018 model years.
Bought in 2016 and built three years prior, the comedian's guarded and gated estate is 3,330 square feet and features all the bells and whistles you'd expect in Bel Air.
A recent survey proves that many Americans still have a problem discussing issues of sexuality and intimacy.
A solo trip to the Hudson Valley offers one writer the opportunity to ponder his queerness among cemeteries, towering sculptures and a stroll down Main Street.
Should the government pay bars, many restaurants and event venues to close for the winter? Some experts say yes.