Top Story
"When we're voting, it's easy to think it's just for a candidate or party we align with, but it's so much more than that," says Drag Out the Vote'...
1 thru 10 of 55620 Stories
Despite cautioning the Catholic faithful in attendance about the risks of COVID-19, Pope Francis and his aides did not wear masks at Wednesday's general audience.
i-D has just released a new, brief but stark documentary on discrimination and increased violence against LGBTQ people in Poland.
With next week's election looming, the CEOs of Twitter, Facebook and Google received a hectoring from Republicans at a Senate hearing Wednesday for alleged anti-conservative bias in the companies' social media platforms.
Move over, Malibu Barbie, and make room for the Elton John-inspired edition, complete with '70s-style wardrobe, enormous rose-colored glasses, and an even more enormous hairdo.
In this busy election year, why is a local contest in the Florida city of Wilton Manors getting renewed attention? The answer is the candidacy of Juan Melecio (aka adult male star Antonio Biaggi).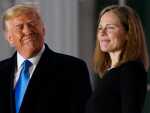 Equality advocates fear that with the confirmation of Amy Coney Barrett to the U.S. Supreme Court, a rapid dismantling of the rights and protections of LGBTQ Americans could get underway as soon as next week.
"We have a community whose members are making a voting plan," says one expert. "LGBTQ and trans women are more likely to vote by mail than straight women, and more LGBTQ women plan to vote overall."
On Monday, Republican Sen. Susan Collins cast her vote against President Donald Trump's Supreme Court pick without any speech and quickly headed home to Maine to try to save her political career.
President Donald Trump can still be a potent television draw, although in the case of "60 Minutes" this past week, it probably wasn't what he intended.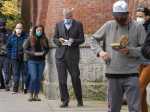 Americans aren't accustomed to worrying about violence or safety ahead of an election. But after months filled with disease, disruption and unrest, Americans are worried that Election Day could become a flashpoint.
1 thru 10 of 55620 Stories