Report: Roy Moore-Founded Group Files Brief Encouraging Marriage Equality Repeal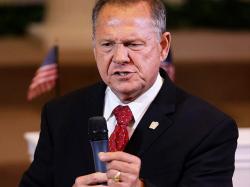 Roy Moore's 2018 Senate run may have been derailed by allegations that the former Alabama chief justice had inappropriate contact with underage girls, but that's not stopping a Moore-founded group from coming for your marriage.
Multiple media sources reported in 2017 on allegations that Moore had had "inappropriate sexual contact" with a female child of 14 years earlier, when Moore was 32. According to UK newspaper The Guardian, Moore faced allegations from four women in all, the common theme being that he had "dated" them while they were still under legal age.
The Washington Post reported on explicit claims made by one alleged victim, who said that in 1979, when she was 14, Moore took her home, took off most of his clothing - leaving his underwear on - and initiated sexual contact between her and himself.
The women in question told the Washington Post, "I wasn't ready for that — I had never put my hand on a man's penis, much less an erect one."
Moore lost his Senate bid in 2018, but is back in the running for 2020. He has blasted the allegations against him as "fake news," and - in a similarly Trumpian vein - brought suit against newspaper the Washginton Examiner and a number of journalists that reported on his alleged sexual misconduct, as well as suing the four women who allege that misconduct.
Moore twice served as the chief justice of Alabama, and was twice removed due to concerns about his conduct. In the second instance, Moore had slammed the 2015 Supreme Court ruling that found same-sex couples have a Constitutional right to access the legal rights and protections of marriage - a ruling that struck down anti-LGBTQ state laws across the country and made marriage equality the reality that it is today.
Openly defying the law, Moore — despite it being their legal right to do so. That led to his second removal as Alabama's chief justice, being suspended in 2016. Moore resigned the following year.
But the group Moore founded - which is currently run by his wife - is hoping that a more conservative-leaning Supreme Court, complete with controversial Trump nominee Brett Kavanaugh - himself the focus of allegations of sexual misconduct during his tumultuous confirmation hearings in 2018 - will overturn its own 2015 ruling and snatch marriage away from tens of thousands of American families.
Reports :
The Foundation for Moral Law, a group founded by the intensely anti-gay former Alabama chief justice and failed Senate candidate Roy Moore and currently headed by his wife Kayla Moore, filed an amicus brief Thursday urging the U.S. Supreme Court to reconsider and overturn its 2015 decision in Obergefell, which ruled that it was unconstitutional for states to ban same-sex couples from getting married.
Right Wing Watch quoted from a media release in which Kayla Moore outlined the group's legal strategy - one that relies on the idea that the Supreme Court is now guided by ideological, rather than judicial, concerns:
"Now that Justice Kavanaugh has replaced Justice Kennedy, we hope that the Supreme Court will once again allow the states to recognize marriage for what it is: a union between one man and one woman for life."
Unclear is how much support the group's plans to change laws regarding marriage in the U.S. would garner from heterosexuals if the broader implication of Kayla Moore's statement - that heterosexual divorce should be made illegal along with gay marriage - were widely understood.
Kilian Melloy serves as EDGE Media Network's Assistant Arts Editor. He also reviews theater for WBUR. His professional memberships include the National Lesbian & Gay Journalists Association, the Boston Online Film Critics Association, The Gay and Lesbian Entertainment Critics Association, and the Boston Theater Critics Association's Elliot Norton Awards Committee.
Comments on Facebook