Watch: A New Wild 'Cats' Trailer Hits the Internet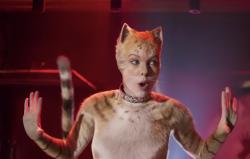 Universal Studios has unleashed another trailer for the upcoming live-action version of the musical "Cats."

Directed by Tom Hooper and starring Jennifer Hudson, Judi Dench, Taylor Swift, Jason Derulo, James Corden, Idris Elba, Ian McKellen and more, "Cats" will hit theaters on Dec. 20.

The new trailer comes nearly four months after the first teaser was released back in July, causing a social media storm with most people pointing out the strange C.G.I. by superimposing cats onto its stars.

Swift recently shared her new original song for "Cats," which was co-written by Andrew Lloyd Weber.

Watch the new trailer below.
Comments on Facebook