Watch: Gay Teen Who Went Viral in Video Fighting Bully Shares Story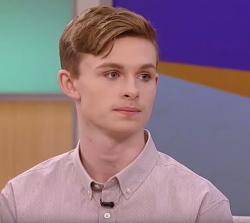 A gay high school student from Indiana who went viral this month for a video in which he's seen fighting back against a bully appeared on Tamron Hall's talk show this week to share his story.

In the viral clip, Jordan Steffy, a 16-year-old student at LaPorte High School, is seen yelling at a classmate who is slowly walking towards him. Steffy tells the other student to stop calling him a "faggot," sparking the other student to use the gay slur a number of times. That's when the clips show Steffy shoving and punching the other student. At the end of the clip, a voice off camera, believed to be a teacher or school official, can be heard saying, "Whoa, whoa, whoa, whoa. Hey, Jordan."

After the clip was widely shared on Twitter, Steffy appeared on Hall's daytime talk show last week to discuss the incident, saying he was suspended and will now be homeschooled.

He also said that the student who was bullying him is being attacked online but Steffy says he doesn't believe that's right.

"I want all the negative comments going towards him to stop," he said. "I have no idea what's going on in his life, as he has no idea what's going on in mine.

"...I don't know if it was a heat of the moment thing. I don't know if it was what he truly believes in," Steffy later added. "But I can't hold him accountable for being bullied against hundreds if not thousands of people."

Below is the viral video of Steffy -- warning, the clip is graphic and should be viewed with caution. Also below, watch his interview with Hall.



Comments on Facebook