Immigrant advocates say the U.S. government is allowing migrant children at a Florida facility to languish in "prison-like conditions" after crossing the U.S.-Mexico border instead of releasing them promptly to family as required by federal rules.
For the first time, Ellen DeGeneres's mother is speaking about her daughter's sexual abuse at the hands of her step-father when she was a teenager.
As the prospects for South Bend, Indiana mayor and openly gay Democratic presidential hopeful Pete Buttigieg soar, so too does the popularity of the app that brought Mayor Pete together with the man he married last year.
Schoolchildren with vaccination waivers are outnumbered in many states by those who give no excuse at all for lacking their shots.
Hulu is announcing a new animated series called "The Bravest Knight," which features a young girl and her same-sex parents.
Alabama Public Television has chosen not to air an episode of the PBS children's show "Arthur" because it included a same-sex wedding.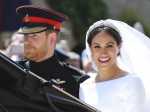 It's been an eventful first year of marriage for Prince Harry and the former Meghan Markle, now known formally as the Duchess of Sussex.
MTV is launching a campaign aimed at stemming the rise of maternal mortality in the U.S.
Amazon met with skepticism from some privacy advocates and members of Congress last year when it introduced its first kid-oriented voice assistant, along with brightly colored models of its Echo Dot speaker designed for children.
Financial planning is daunting enough, but it becomes more complicated and critical when you have a child or family member with special needs.