Elizabeth Warren Signs Taylor Swift's Equality Act Petition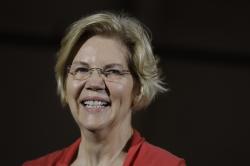 Sen. Elizabeth Warren (D-Mass.) and 2020 presidential hopeful signed Taylor Swift's Change.org petition in support of the Equality Act, The Hill reports.

Swift's petition came after she released her new queer anthem "You Need to Calm Down." At the end of the song's accompanying music video, a message shows up, urging fans to support the Equality Act, which aims to protect LGBTQ people from discrimination.

"It's 2019 and our LGBTQ+ friends continue to face discrimination at work, school, and in their communities," Warren said in a statement. "Enough is enough. I'm proud to represent Massachusetts in the Senate, a state that has led the nation in protecting and promoting equality. But there's so much more work to be done. We can start by passing the Equality Act."

The Equality Act was approved by the Democratic-controlled House in May and Warren said it's up to the Republicans in the Senate "to be on the right side of history" and approve the bill.

"LGBTQ rights are civil rights. LGBTQ activists have never given up, they've organized, and brought about transformational change. But the work is far from over. Thank you, Taylor Swift, for being in this fight to pass the Equality Act," Warren said.

Warren isn't the only 2020 presidential hopeful to get behind Swift's petition. Last week Sen. Cory Booker (D-N.J.) also signed the "Delicate" singer's cause. Sen. Bernie Sanders (I-Vt.), Sen. Kamala Harris (D-Calif.) and Sen. Kirsten Gillibrand (D-N.Y.), who are all 2020 presidential candidates, all voiced support for the Equality Act, The Hill notes.

As of this writing, Swift's petition has more than 350,000 of the 500,000 signatures. Click here to sign.

Revisit the "You Need to Calm Down" video below.



Comments on Facebook