Meet Caeleb Dressel, Swim World's Next Superstar
Last night Caeleb Dressel made history — again — at the world swimming championships, winning three gold medals in just two hours Saturday night at the World Swimming Championships in Gwangju, South Korea

He has won six golds and seven medals overall with one night remaining in the meet, tying Michael Phelps' record of seven medals — all gold — at a single worlds in 2017.

"It was not easy in '17, it was not easy this year," the 22-year-old Floridian said. "I don't want it to be easy, I really don't," he told the Associated Press.

In all likelihood Caeleb Dressel is on his way to becoming the swim world's next superstar — many are calling him the next Michael Phelps, whom he referenced with humility in a recent interview with the BBC.

"I know comparisons are going to be made, there is no way you can avoid that," he said when asked about Phelps. "People are free to say what they want about me, but for me it is not what I am focusing on — to be the next whatever. I don't even think there should be a comparison. He is a better swimmer, he is more talented than me. But I am going to do with what I can do with my talent and my skillset, so it hard for me to say I am going to be the next 'whatever' or 'whatever' because that's not what I am shooting for. I am shooting for what I can focus on and what I can do with my own skillset."
He recalled advice given him by Phelps.

"I think the best advice Michael told me that when we were on top of the podium after the relay, it was just: 'take it in. Enjoy the moment.' That is exactly what it was. And I don't think he meant just for that moment, I think he meant for many moments to come, the good and the bad. Just really enjoy it. Take your time with it. This is a guy who has been swimming literally his whole life. He is the epitome of swimming. He is what everybody strives to me. He's the best. He's the goat. So I am going to listen to what he has to say, so he just said, 'enjoy it. Enjoy the moment.' And that's what I have been trying to ever since."

Dressel grew up in Florida, attended University of Florida, and never sees himself leaving the state.

"I grew up in Florida all my life. I love the water. Taking my boat onto the river. Florida is definitely my home. I plan on living the rest of my days here," he told the BBC.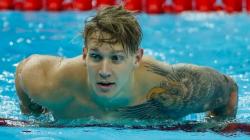 But he wasn't always enthusiastic about swimming.

"No I did not always love swimming. No, no, no, no, no. When I was about 12, I was so over it. I didn't think it was that much fun. I am a 12-year old kid who just wanted to run around and get hurt. go tackle someone or somebody, so swimming didn't offer me that in the least bit. But there was something about the sport that I couldn't walk away from. You have to be a little bit crazy to do this sport, so I truly believe this sport chose me. God gave me a talent that I am trying to use every last bit of it, and I am loving it more than ever; but it wasn't always the case."

And was looking forward to defending his World Championship.

"There's a different amount of pressure on me. I understand that. But what an honor, what a privilege, to have that.I had a really meeting in 2017 — I think I proved myself and what I was capable of. But now I have to bring that back. I know what's riding on me as defending world champ. I would like to do the same thing, but we are not counting medals. We are going to come in confident as a team. We are going to get the work done."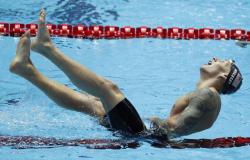 Little is known about Dressel's life outside of the pool, so what is a day in the life of Dressel?

A A TeamUSA interview earlier this year had a simple answer: focusing on training.

"I like to aim for three objectives per day," said Dressel... "I have this habit where I will just go and go and go and try to get as much done as I can, and I'll just start making stuff up to do, so I try to limit myself. It lets me go to bed feeling like I've gotten a lot accomplished."

"At home in Florida, where he practices under the tutelage of former University of Florida coach Gregg Troy, Dressel maintains a strict training schedule that nevertheless leaves time for things he loves," reported TeamUSA.

He's up at 7am; has breakfast where he avoids "the sugary stuff. This is followed by weight training for two hours, then swimming.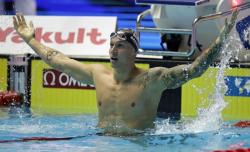 Around noon he spends time with his dog, Jane. "My dad's a veterinarian, and I've grown up around animals my whole life. I love having a dog. I usually train her every day. We just run around chasing after things, doing some retrieving, some gun dog stuff. I take Jane everywhere I can with me, and she's gotten a little bit famous in the area! A lot of people have come to know who Jane is, even though they don't know my name. I hear a lot of 'Hi Jane!' as we're walking around."

A second breakfast, and a power nap follows. Then training until 6pm. ?After that, "No more work stuff — evenings are my time to relax, unwind and recover from practice," he said.

"In the evenings I'll do something completely different, hanging out with friends or reading. I'm currently reading 'Endurance: Shackleton's Incredible Voyage' by Alfred Lansing, which my dad recommended. It's the story of the explorer Ernest Shackleton, who sailed to the Antarctic. His team's boat got trapped between two ice floes and the book tells the story of how he and the crew all survived, even though they were stranded for months.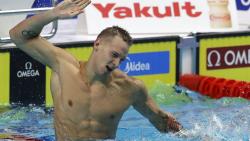 "I also play drums and the ukulele, though I consider myself pretty tone-deaf. I started playing drums in sixth grade and stuck with it, so when I went to Florida, my electric kit came with me. I'm not very good at the ukulele, but it only has four strings and it's pretty easy to put chords together. I had a banjo at one point too, but that was a disaster.

"I like video games, too, but don't like playing them alone, so if friends are around we might play a game. My go to is Super Smash Bros., which I grew up playing with my brother. If there's something going on at someone's house, I'll go to that. We often hang out together and watch TV."

After that, bed by 10:30pm. "Winding down. I try to get eight hours of sleep per night, so if I get up at 7 a.m. I aim to be in bed by 10:30 or 11 at the latest. I do like to sleep."
Watch Caeleb Dressel's BBC interview:



Comments on Facebook