Gay Australian Athlete Slams Homophobic Meme Using His Image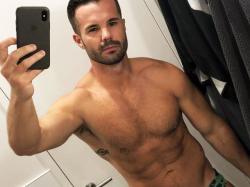 A homophobic meme circulating on social media caught the attention of openly gay Australian bobsledder and rugby player Simon Dunn, not least because it uses a photo of himself, reported Gay Star News.
Dunn took to social media in turn to blast the meme, a number of LGBTQ media outlets reported.
The meme shows two photos, one of Dunn and one of Julian Clary, a gay English humorist known for his intentionally stereotypical stage persona, which has included makeup and leather items of wardrobe.
Next to Dunn's photo the meme lists supposedly "respectable" qualities such as "Acts like a Normal Human Being," "Has a Personality," and "Literally Is A Normal Person That You Can Be Friends With" - laundry list that could easily be applied to any number of heterosexuals, except for the inclusion of one further item, which reads, "Doesn't Force Upon You the Fact That They're Gay."
Next to Clary's photo, the meme listed several attributes that were supposedly not as "respectable," many of which — such as "Sexuality Is The Focal Point of Their Existence" and "Dresses Like A Clown" — could also just as easily be applied to heterosexuals. The meme also, ironically, listed "Complains About Straight People Consistently [sic]" in its litany of gripes.
Dunn didn't hold back, unloading his disdain for the meme in a disapproving tweet:
Don't use my image for your internalised homophobia, don't make assumptions on the kind of gay man I am or the kind of gay men I associate myself with. I'll always support those those who are true to themselves and be who they truly are. I will always be your biggest advocate! https://t.co/n6eIf8Cd1h— Simon Dunn (@BySimonDunn) July 26, 2019
"Don't use my image for your internalized homophobia," Dunn fired back, adding, "don't make assumptions on the kind of gay man I am or the kind of gay men I associate myself with.
"I'll always support those who are true to themselves and be who they truly are. I will always be your biggest advocate!" Dunn's tweet concluded.
The athlete reiterated his suggestion that the individual who created the meme suffers from "internalized homophobia," telling Gay Star News, "The gay community is notorious for not being our own allies.
Dunn went on to say, "We need to learn to be more accepting of others within our community and stop idealizing a certain type whilst acting like anything else is lesser."
This is hardly the first time the athlete has stood up to online homophobic hate. Dunn prompted headlines last year when he posted a photo of himself and his boyfriend sharing a kiss on a rugby field after their team, the Kings Cross Steelers, of London, won a match. Dunn posted the image in response to homophobic posted on social media by anti-gay Australian former rugby star Israel Folau, who had claimed on Instagram that gays who do not "repent" for their innate sexual and romantic desires are destined for — as Folau had it in a burst of all-caps — "HELL."
Folau subsequently went on to post more disparaging remarks about LGBTQs in defiance of the inclusivity policies of his team and Rugby Australia and was eventually found to be in "high breach" of his $4 million contract. Folau was subsequently dropped from his team and saw his contract canceled. Folau then turned to soliciting donations from his fans, prompting Dunn to respond by setting up his own GoFundMe page where, instead of shelling out to Folau, fans could show their support for LGBTQ youth with charitable contributions.
Dunn told the Gay Times, "Clearly whoever created it [the meme] doesn't have any idea of the person I am and what I stand for. I've spent the last several years being very public about my sexuality whilst I was an athlete and still continue to do so today."
Kilian Melloy serves as EDGE Media Network's Assistant Arts Editor. He also reviews theater for WBUR. His professional memberships include the National Lesbian & Gay Journalists Association, the Boston Online Film Critics Association, The Gay and Lesbian Entertainment Critics Association, and the Boston Theater Critics Association's Elliot Norton Awards Committee.
Comments on Facebook