Top Story
At the Tour, long gone are the days when bold riders would launch long-range attacks and foil the sprinters at the finish line.
Across the country, in states critical to Trump's reelection, the reaction to Trump's racist tweets exposed two vastly different views on race politics in America.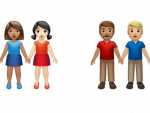 Apple and Google are rolling out dozens of new emojis that of course include cute critters, but the tech giants also continue to push the boundaries of inclusion and diversity.
The Environmental Protection Agency skirted some of its usual procedures and ethics rules when it overhauled key agency advisory boards, slashing the numbers of academic scientists on the panels and appointing more industry figures.
With all the technology stacked against them, the six breakaway riders at the Tour de France had no hope of making it to the finish without being caught.
Apollo 11 astronaut Michael Collins returned Tuesday to the exact spot where he flew to the moon 50 years ago with Neil Armstrong and Buzz Aldrin.