Top Story
An arsenal of new technology is being put to the test fighting floods this year as rivers inundate towns and farm fields across the central United States.
Nationwide physician-staffing company EmCare says a breach exposed personal data for about 31,000 patients, including in some cases their Social Security numbers and clinical information.
A British cybersecurity researcher credited with stopping a worldwide computer virus has pleaded guilty to developing malware to steal banking information.
The British-led Nekton scientific mission on Thursday completed a seven-week expedition in the Indian Ocean aimed at documenting changes beneath the waves.
PTSD is common, affecting 8% of the U.S. population, up to 30% of the combat exposed veterans, and 30%-80% of refugees and victims of torture. Brain scans can help us understand how the brain is structurally affected, but is not diagnostic.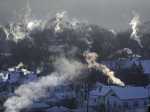 Americans burned a record amount of energy in 2018, with a 10% jump in consumption from booming natural gas helping to lead the way, the U.S. Energy Information Administration says.