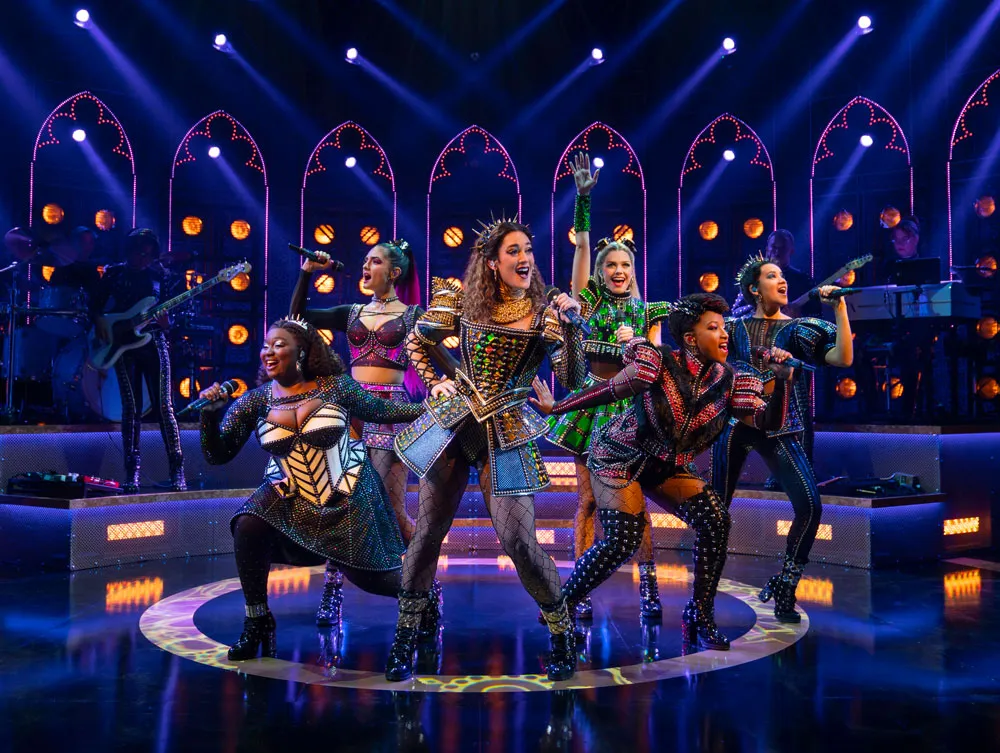 Review: Fast-Moving 'SIX' Offers Pop Twist on History
The winning "SIX" reimagines the wives of British monarch Henry VIII as pop stars, then sets them in something of a flashy pop concert to tell the stories of their lives. It was the brainchild of a pair of Cambridge University students – writer, composer, and actor Toby Marlow and writer/director Lucy Moss – who first brought their show to the Edinburgh Festival Fringe in 2017, then the West End in 2019. But upon opening on Broadway, "SIX" was closed to the COVID-19, only to reopen in October 2021, where it has been largely a sell-out.
Inspirations for the musical "retelling" of the six wives' stories vary from a novel to a documentary to Beyonce's 2011 story-telling concert. Introducing themselves with "Six Wives," they proceed to tell their individual stories over the course of the show. For the record, the wives are Catherine of Aragon (Gerianne Perez), Anne Boleyn (Zan Berube), Jane Seymour (Cecilia Snow), Anna of Cleves (Terica Marie), Katherine Howard (Aryn Bohannon), and Catherine Parr (Jana Larell Glover).
But it's not just a retelling of history, it's a competition of sorts; each wife wants us to know how badly Henry treated her. Divorced? Beheaded? Marriage annulled? And at least one who actually loved him, Catherine Parr, gives us a heart-wrenching "I Don't Need Your Love" towards the end of the show. The women not only have modern songs to sing, they're inspired by todays' top female performers, which is evident from the first notes. "All You Wanna Do" steps forward as the most fun of these, performed by Bohannon as Howard working it for a cheering crowd.
"SIX" offers fast moving choreography, eighty minutes of fun songs, colorful costumes, and talented female musicians (called the "Ladies in Waiting") who offer onstage accompaniment. While the story follows the timeline of when these women were married to Henry, unless you're a historian you probably won't notice. What you will notice is some great singing, tight dance numbers, and an all around night of fun.
"SIX" has an extended run through April 23rd at the Providence Performing Arts Center (PPAC) 220 Weybosset Street, Providence RI 02903. For information or tickets call 401-421-2787 or visit www.ppacri.org .
---